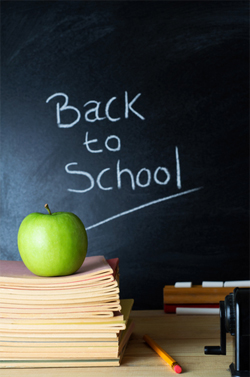 School is just around the corner, and all children want to look their best when they head back to the classroom. Haircuts, new clothes, sports equipment, and supplies all help; but there is a lot of preparation that goes into getting ready for school, and proper dental care is one thing that shouldn't be left off the back to school checklist!
Why is it so important? Tooth decay affects children in the US more than any other chronic infectious disease. Untreated tooth decay causes pain and infections that can lead to more serious problems. In fact, the Surgeon General calls dental problems the "Silent Epidemic" that results in more than 51 million school hours missed each year! In order to ensure that your child maintains their bright smile throughout the school year, here are some tips to consider as your child heads back to the classroom:
Schedule a back-to-school dental visit:
Regular dental checkups (at least 2x per year) during the school-age years is vital because this is a time of great change in the mouth, with loosing baby teeth and getting in their permanent teeth. Tooth decay is still the most common chronic childhood disease and, if left untreated, it can impair a child's ability to eat, sleep, speak, and learn.
Establish daily brushing and flossing habits with your children:
It's easy to get off schedule during the summer but getting back into a daily routine will help kids to remember good oral hygiene practices. Get kids back in routine of brushing twice a day, and don't forget to floss and use fluoride rinse at night.
Make good nutrition a top priority:
Pack healthy lunches and plan for healthy after school snacks. Pack bottled water in lunches along with balanced meals:  sandwich, string cheese and fruit. Snacks should also be healthy: fruit, veggies, cheese and nuts satisfy and help teeth stay strong. If your child takes school lunch, they should choose either white milk or water to drink (most will choose strawberry or chocolate milk).
Sport a mouthguard:
Fall is the time for many contact sports both on and off the field. An injury can take the fun out of gym class, recess and after-school sports. Be sure to get a properly fitted mouthguard to help protect your child's precious teeth from being chipped or knocked out.